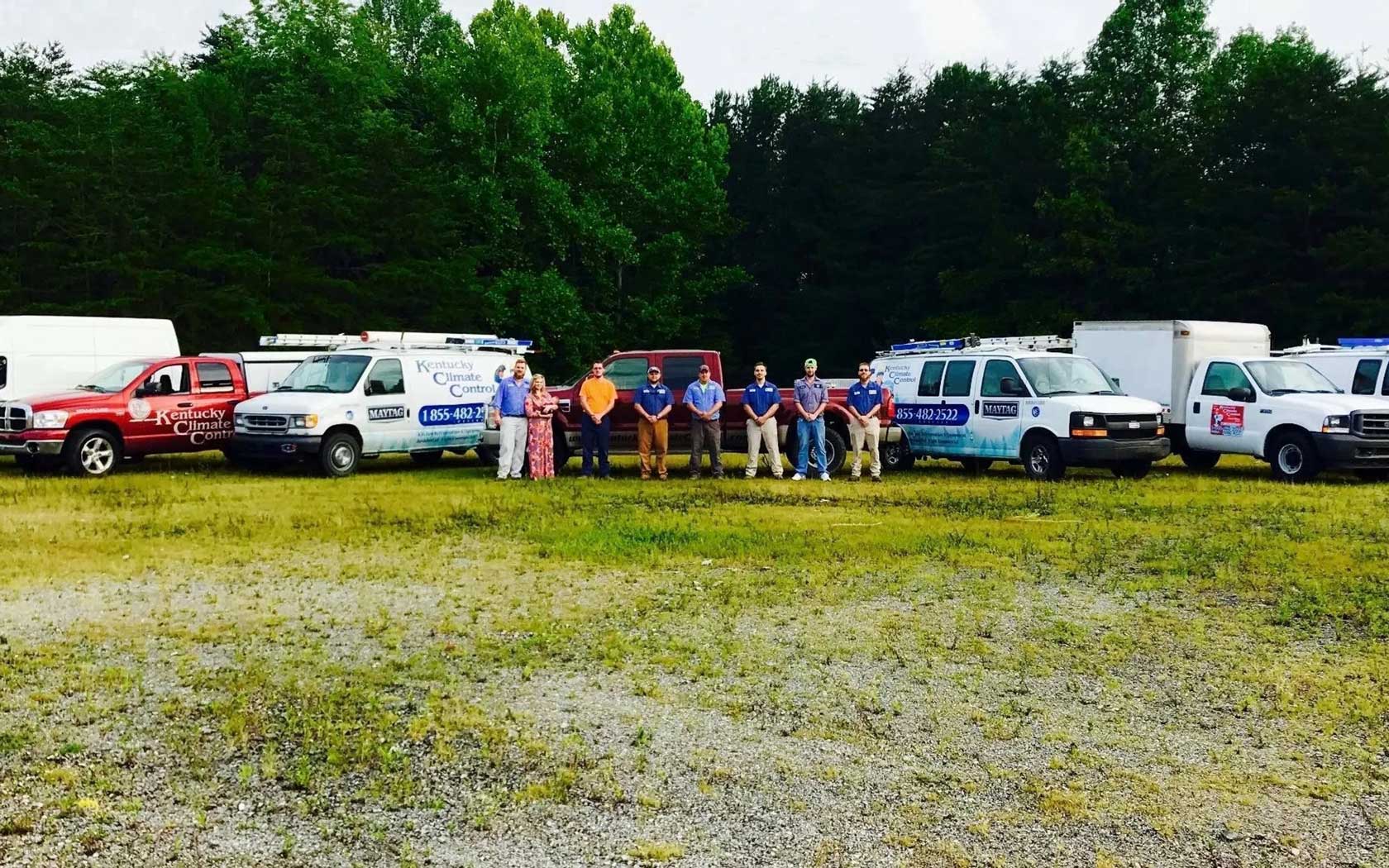 Kentucky Climate Control is a family owned and operated home services company serving the needs of London, KY and surrounding areas in southeastern Kentucky.
When you reach out to our team, you can rest assured that you will be working with experts who care about you and your peace of mind. We are committed to delivering the best solutions and providing you with an exceptional customer experience.
No job is too far or too small for us. Whether you're a residential or commercial customer, we've got you covered.
Installing HVAC Matt and Judd was Great doing the dct and HVAC
Jesse was very professional and knowledgeable. He had my system running again in no time.I would highly recommend Kentucky climate control!
Very nice guy explained everything he was doing..very professional
The team who came and worked on my house did not stop, working well into the night to make sure everything was fixed, ive never seen people willing to work that hard. Not only them but the sales rep who went over the finances with us did everything in his power to resolve every single issue that did crop up, do to complications out of their control. Most companies would say sorry and that be the end of it, but not them, they took responsibility for it regardless and did everything a human could do and got our new system up and running in a decent and timely manner. Honestly i wish i could talk to the higher ups and get them a raise, they earned every penny on this project. They more than earned my respect.
When I got the bad news that my furnace and AC needed replaced because they were rusted apart from age, I started shopping for an HVAC company. I chose them because they had really good reviews and let me tell you they are worth every single star of every single 5 star rating that they have. The relationship started out a little rocky because their supplier had a massive overturn of management who all decided to leave at the same time and a bunch of their orders got messed up. We did not get all the correct parts and some where missing to make our system work. This was disappointing both from us (homeowners). This was by no way KY Climate Control fault.They company provided a mobile unit to cool our home and make it tolerable while they got the correct parts. Their management had to make several trips on different days to 3-4+ hour trips to collect and find all the parts that our system needed for repair. When I say these guys took a tough situation and persistently stayed on top of it to ensure that the mess got straightened out, I mean it. They kept me informed through the whole process of the parts they were getting. Made multiple trips consecutively for 5 days to make sure everything was proper, up to code, and clean. What seemed like a hopeless mess at first, became an easy and painless process.The techs cleaned up after themselves and were so professional. While selecting our plan before installation, every question was answered and visual graphs was even drawn to ensure that we completely understood what each part did and helped us make the choices to personalize our system for all our needs. I HIGHLY EMPLORE YOU TO USE THIS COMPANY BECAUSE YOU WILL NOT REGRET IT!! -Shout out to Dustin, Colby, and Colby's brother for their absolute amazing working. They deserve pay raises and bonuses.
Seth was incredibly knowledgeable and willing to teach me some tips. He gave advice on how to take care of my a/c unit and was really friendly and on top of everything. If we ever have any issues out of our system, Kentucky Climate Control will be our go to for service.
Kentucky Climate Control has done a great job for four years now. We get their maintenance package where they come out twice a year and clean, inspect and make sure our unit runs properly for Summer and Winter. They even helped us when we needed to replace our old heat pump. Their technicians always do a thorough inspection and cleaning. Highly recommend.
Alex did a great job on shower repair. Would highly recommend KCC for any service.
Jesse Hembree was an excellent repairman. He put in hours of labor and gave 110 % In the pouring rain… very pleased.
Our service technician, Seth, was very helpful and listened to me about our HVAC problem. He worked hard to find a solution and made sure I was aware of the repairs he made. I couldn't be more satisfied with our service.
Great guy! Give him a raise!!!
Buddy was amazing. He was professional and pleasant the entire time he was working at my house. The entire system replacement took several hours, and he was professional the entire time. It was a completely wonderful experience.
Noticed when washing clothes we would have backwash into shower. The next day we had a leak from upstairs into the basement. Called KCC spoke to a lady who said she could have a technician named Alex Blackwell out within an hour. I was skeptical, but to my surprise Mr. Blackwell arrived on time, introduced himself and made some courteous small talk. While working he let me know every step of the way what he was doing. I would be annoyed with someone watching over my shoulder. Mr. Blackwell didn't mind, he was a true professional. The job got done right also. I hope I never have to use this company again but if I do I will request Mr. Blackwell as the technician to come out.
Buddy and Eric did amazing! They were very professional and got it done within a reasonable time frame! Definitely recommend! 10/10
During the heatwave, they came they fixed, they installed, and they didn't let a single pet outside (huge bonus in our book)Buddy and Eric worked during a nasty storm (to the point where we were worried and wanted everyone in the basement for a potential tornado) to make sure we were happy and cool. They were kind and professional they cleaned up after themselves and made sure that we were happy before they left. They were a pleasure to have. 10/10 would let them install again.
Rick,Matt, and Judd were amazing. Professional on time and courteous. Absolutely an amazing experience would recommend these fine men to any individual. Absolutely elated with overall experience.
REVIEW UPDATE......... UPDATING from 4 stars to 5 STARS 🌟 We had our HVAC system replaced and new duct work run as our old unit went on the fritz back in Feb-Mar. of this yr.... Let me tell ya'll a little something about KENTUCKY CLIMATE CONTROL they were the most efficient team of HVAC guys I've ever worked with..They were here and ready to work at scheduled time all were very polite and informative...took me through everything and explained how the new system worked and they even cleaned up after themselves!! Yay! We are VERY VERY HAPPY 😊 with our new system and couldn't be more pleased with KENTUCKY CLIMATE CONTROL so when your HVAC System goes on the FRITZ give KENTUCKY CLIMATE CONTROL a call and you'll soon be Chillin😎 like a Villin!!!!..............Four stars for customer service and Estimates/inspection ...Having some duct work done and a whole new cooling and heating pump and air handler..will adjust rating after work is done. So far Kentucky Climate Control are the peeps to see 👀 when your air is on the fritz...
Technician was super friendly, and they were also able to diagnose and fix the problem quickly.
Questions were answered n appointment made by a very courteous lady..will add to review after they come out...Seth came out preformed diagnostics...found the problem n needed a part..the next day came with part n finished the job..could not ask for a nicer person to work on my furnace n will call again if I need too..hope I don't but u never know..
Matt and his crew and sales guys and office staff were all pro's the crew and salesman and repair all showed up earlier than expected and all did their jobs with class and pride I absolutely recommend them for heating/air needs......Thanx Guys.....
Seth is professional, efficient and friendly. Prices are reasonable. We were able to get out unit repaired the same day we called! We will be using this service again!
Very quick to respond and got our heat and air back in service very quick and very dependable and reasonable. Will use again if needed.
I hear it's a great company and they will be fair with you. I plan to use them for duct cleaning.
Great professional work, couldn't of asked for better work!
Chris was amazing. They showed up earlier than expected(text and called first). Diagnosed the trouble, found a controller board local before having to order one(that would have taken a few days), and replaced it the same day! Highly recommend!!
From Cidney who answered the phone to Chris our technician we were well taken care of. All of our questions were answered and everything was carefully and thoroughly explained. There were no surprise costs. Work area was left clean and everyone was kind. I reccomend Kentucky climate control to anyone needing work done. I'll definatly be calling them for any future work.
Called in for some information and spoke with Megan. She was very helpful and informative. She went above and beyond to help me with all of the questions. She was extremely polite and professional.
Cidney made the process as easy & effective as possible. Outstanding customer service, as well as the initial service provided. 10/10 would recommend.
We have used Kentucky Climate Control for several HVAC maintenance issues at our previous house, but this new house required a whole new system. Buddy and his team were amazing, they arrived in the morning and would not leave until the work was finished, which was midnight. The weather was cold and wet but they would not give up. We could not be happier with the professionalism and knowledge these guys have. Everything was done with plenty of communication regarding our preferences.We will continue to use this great company, we actually have their plumbers coming Monday.Thank you Buddy for a very pleasant experience, we are happy and warm thanks to you and your team.
Chris did a great job explaining to me what was going on with my unit! I would call them again with any issues I had!
This company stands behind their work. Randy is a top notch technician.
Fast friendly service will definitely use again
Matt done a great job!! Very knowledgeable, kept clean work area. Explained the problem issues in great detail. We are very pleased with the service and will be using them again with problems in the future.
Andrew and Shane came out after hours when our toilet suddenly backed up. They diagnosed the problem quickly but unfortunately we're unable to fix the issue so late in the evening. They promised to return at 9 AM the following day. Andrew showed up and had the issue diagnosed and on its way to being repaired by 9:30. He let me know what was going on every step of the way. Answered all of my questions. Unfortunately the issue was with my septic tank and not something they could fully fix. But they got us temporarily up and going to where the restroom was usable until we could get the main issue resolved. Later in the day Shane and Matt returned to snake our drain one last time and to insure the toilet was properly working before the end of the day. They completed the job quickly, professionally and cleaned up after themselves. They even set up a meeting with a septic person. All three were very polite, knowledgeable and a pleasure to do business with. I am a repeat customer and will be using them in the future.
Michael came out & fixed the AC for us super quick! He was really nice & I do appreciate how fast he worked & got the AC fixed
Was scheduled same day I called!! Chris was very professional, explained the problem and all options to fix it. Will definitely use them again.
Great experience! Friendly, professional technician.
Our toilets and showers backed up last night and flooded the basement. We weren't able to use any of the toilets. We called at 9 am this morning (on a saturday) and they had someone come out and fix the problem before lunch time. They were very professional and quick. They cleaned up the mess before leaving. Will use them again.
I was very pleased with how quickly they were able to come out and fix our system. The technician, Chris, was outstanding! He was very friendly, very professional, and made the repair in a very timely manner. If I could give him 10 stars I would. I would highly recommend this company.
Chris came by today to help us with a cooling leak that had been bothering us during this heat wave. He was exceptionally professional, polite, and conversational. When asked about details pertaining to service and charges he was very upfront and direct, and also explained things in a way that a consumer who is not used to HVAC terminology could easily understand. I will certainly recommend Chris and KY Climate Control to everyone I know having heating, cooling, electrical, or plumbing issues!
They did a great job, fast and professional .
Answered all questions to my satisfaction!
Good service, professional, quality work
Very happy with the service they provided. I didn't get right through when I called (after hours) but they quickly got back to me and were at my house in less than 24 hours of my call during peak season. Michael was very professional and friendly and took time to explain things to me.
Great service we came in after work around 6 in the evening found our upstairs unit was not working. We called these guys they had someone to our door after hours with the parts need to repair our unit. The technician (believe his name was Matt) did a fantastic job was very knowledgeable and respectful as well. The gentleman even offered to bring our trash cans up from the curb.
AC went out last week during 90 degree heat. A friend recommended this company. The tech came out and could not make repairs because the broken unit could not be repaired. Their estimator came out the next day and confirmed our suspicions that we needed a new system. The price was good. Not bargain basement but in this business you get what you pay for. The techs were kind and courteous and most importantly neat. I highly recommend this company.
Chris Seagle was awesome, a veritable HVAC whisperer. He listened to the unit for a couple of minutes then said "I know exactly what you need" and did! He had the part on hand to fix the issue and I was back up and running within a few minutes. Will use KCC again.
Highly recommend Kentucky Climate Control for your AC Unit service and repairs!Chris, our service tech was very honest, personable and explained our entire situation to us very clearly.We opted for just a freon fill up today, but will be working with them again very quickly to replace our 25 year old unit.Thank you all again for your services! 😊
The best experience I have had working with an HVAC company!!! Kept me informed, gave me various options to fix my problem, and were on time installing my new HVAC unit.
We bought a house in KY that needed hvac, electrical and plumbing work. I called several other electricians and plumbers and never even got a return call. When I called Kentucky Climate Control for hvac installation they made an appointment for the next day. I was shocked that my system is installed and working in less than a week from the initial phone call. When the electrician came out for the hvac I explained several other electrical problems with the house as well as installation of a dryer hook up. He was exceptional and quickly resolved the problems. The plumber came out and is currently working with me to get my issues resolved. To have all my issues resolved with one company has relieved me of a lot of stress. The workers Rick, Matt, and Andrew are very polite and work hard. I told them to leave the mess and they insisted on cleaning it up anyway. Lastly, I feel the price was excellent for what I got. The quote was spot on and there was no hidden" surprises" I will definitely use them in the future for my maintenance and up keep.
Heat went out during an ice storm of all times! Called and set up 4 estimates and decided on Kentucky Climate Control. Salesman Jim came out and was very friendly and gave his recommendations. After committing on a Friday afternoon the unit was Installed the following Wednesday. Randy and Buddy arrived that morning and explained what to expect and did their thing. No issues whatsoever. They cleaned up and ensured all was in working order before they left. Highly recommend.
Charlie and Matt did a great job and were very friendly and clean. Came out on a Saturday and repaired my septic system in cold weather. They made sure to keep my house clean and I didn't have to ask. Did a great job with great results.Highly recommend and will use them for future needs.
Rick and Robbie both are electrician and they came out to fix some of my bad wiring and hook up electric for my pool they was very sweet and nice and they worked with us
On time... very friendly and provided good info for maintenance and options for going forward for our unit
Charlie did a great job!!
Charlie and Tim were incredibly kind and professional. They were able to listen to what I did myself to try and fix my issue, and they were able to determine where the issue was past that. They were efficient and quick, recommend them for any of your plumbing issues!
Kentucky Climate Control has always come through with prompt, professional, reliable service at a fair price. KCC, thanks for being there, you have earned my loyalty as a customer!
Charlie was great. Extremely knowledgeable. Got us took care of quickly. Would definately use again, Highly recomend.
We are very please with the Hvac system Ky Climate Control installed in our new home. Each tech that has worked at our home has been courteous, knowledgeable, and just seem to love their jobs. That makes a difference! It's great to have a locally owned company that cares taking care of our hvac needs. Thank you!
Charlie and Andrew did an awesome job! Very impressed with their knowledge and work effort!
Charlie was vey professional and knowledgeable. Answered all my questions and then some. In addition, he explained everything that he was doing. Thanks for a job well done.
Very prompt service. Robert is a great technician.
Robert was our service man he was completely 110% professional and explained in detail I would recommend him to anyone.
Very fast service when we had a broken pipe. No one else could see us till next week. Our plumber Charlie Pace was completely knowledgeable and friendly. He even took the time to answer a million questions from my two young grandsons. Would highly recommend.
Very professional, I highly recommend them.
They were very responsive, came out next day and arrived before their estimated time! Very friendly and explained what they were doing and what was going on with our unit. Fixed extremely quick. Thank you!
I had a drain that I couldn't keep clear. Charlie , who was on time , did a great job finding and fixing the issue. I had my doubts at first on how this company would do with plumbing, and almost canceled to hire a local plumber I knew. But,I stuck with my guns and gave them a chance to prove themselves to me. Which they did. I would Definitely recommend Kentucky climate control. Great work Charlie👍👍
Timely, courteous and professional.
We replaced our old hvac unit with a Ruud unit. We also replaced our old duct work including microbial flex. They also installed a uv light that disinfects by using oxygen positive ozone that is very safe, no chemicals, to kill viruses, bacteria, and mold. The result was amazing. We cannot think of any possible criticism of Jeremy and the boys. They were patient and very informative and did all they said they were going to do and more. We had several delays due to our situation and weather. We needed this project done in one day and they moved their schedule around to help us while repairing our old unit to help it run till the new unit was installed. Josh, the supervisor, and all of Jeremy's staff were very informative friendly and helpful. It was a pleasure dealing with these guys. The most important part was that they were very professional, neat and did very good finish work. From boot covers inside the house, to details like leveling the thermostat, to the metal hood between the unit and the house sealed properly and gas pipes painted, this crew did an excellent job. I am so pleased. I would not hesitate to use them again or to recommend them to anyone.
Robert was my repairman on my service call. He is very professional and knowledgeable. I told him what my issue was and within a few seconds he determined the problem and resolved it. Great guy and a great conversation holder would highly recommend and would rated higher if available. Y'all definitely have my future business. Thanks have a great day I know mines better!Update sent another tech out. Josh both guys were great and knowledgeable this place is great and will take care of all your needs and issues. Just give them a try and I promise y'all won't regret it. Thanks again Kentucky climate control!!
I was very pleased with the great service this company provided. I experienced AC problems on a HOT holiday weekend and called these folks on a Sunday morning and to my surprise I was informed they could have someone here that afternoon....My tech, Josh arrived on time and was very professional and had me up and running in a matter of minutes. I was very impressed by his attitude, kindness and knowledge..... I highly recommend KY Climate Control and will definitely use them if I experience HVAC problems in the future.
Chris was our repairman. Very professional and informative. He found the issue right off and was able to inform me of my options. He was very nice and was able to get our unit cooling quickly. Would definitely recommend!
I could not be happier with my experience with Kentucky Climate Control. They responded to us rapidly and worked diligently until the job was done. Josh, Michael, and Darian were consummate professionals, friendly, and knowledgeable. I cannot recommend this company more.
The service technician (Chris Seagle) showed up on time. I found him to be very friendly, knowledgeable, and good at his job. He had everything back up and working very quickly. I would certainly recommend this company and I would use them again in the future.
Fantastic customer service - my technician was Chris and he was extremely kind, up front, personal, & professional about everything. Jeremy the owner is also fantastic he worked with me to make sure I would be able to get a new reliable AC unit. They guarantee and warrant their installation services and parts - I hope to replace my 2nd HVAC with them and plan to update this review after it! Thus far I cannot speak highly enough; their customer service over the phone is also fantastic.
Awesome service! After much cost and drama with 2 other hvac places KCC came out and stayed until air was working properly, took 4 hours to find the problem - he didnt give up he stayed on until he found and fixed the issue! And didn't over charge.
My technician for my AC unit, Chris, was very nice, was extremely helpful with explaining the specific AC issue causes in detail for me as well as showed me pictures of the causes. Incredible amount of info about other professional services offered through KCC. Which I will be using in the future. My AC unit is up and running wonderfully with amazing professional and speedy service. I will definitely be going through them again for their amazing and timely service.
Chris was early well prepared and well informed of service needs. Also provided honest and reliable information on system I have and what I can expect in future. Will definitely use again and am extremely satisfied.
Fantastic service at a fair price
Chris Seagle was wonderful to deal with! Called on Tuesday, they were at my house by Thursday morning (25 minutes early) problem was quickly repaired. Great customer service, would highly recommended to anyone!
Kentucky Climate Control is amazing! They are kind and helpful.
Chris and the electricians were all very informative and fixed my issue for the least amount of money! I highly suggest using this company for any HVAC repairs.
Chris just just did a safety inspection for our two 15 year old units and uncovered some issues. The yearly maintenance coverage gets one fixed but the other might just signal the end of our upstairs furnace. Chris caught the problem before our kids were exposed to too much carbon monoxide. Thank you, Chris! Hurts the wallet but keeps our family safe.
They came out the next day after we called about some heat pump issues. Chris was our technician. He was very professional and told me about all the options available to us. He was thorough with his inspection and he was able to fix our issues. Everything is working perfectly and I would recommend them to anyone.
Josh is very responsive and the integrity of his work shows.
I sent a message to KCC today and my call was immediately returned. I had an appointment to have my unit serviced. Chris performed the service and he was through and explained what he was doing and he was knowledgeable about the system and he took care of all problems. Great service and truly amazing Employees! Thank you!
Timely service, even though I rescheduled twice with Ashton. Polite, Friendly, & knowledgeable service. Chris went out of his way to make sure I was helped the same day. I would recommend this service for anyone that needs help in the area.